The 2021 MakeX Spark Online Competition – Code for Health has reached an end. We would like to congratulate all the contestants and mentors who have been recognized by the organizing committee and the judging panel. And the organizations behind them are the driven force to constantly support and guide them along the way. We celebrate them by awarding Excellent Organizations to those whom have shown great efforts and dedication in supporting students and creating impacts in STEAM education.
Tinker Bell Labs
Tinker Bell Labs or TBL Robotics is a Robotics Center based in Karachi, Pakistan in which their mission is to inspire and nurture future generations – one child, one robot, and one innovation at a time.
TBL Robotics was awarded Excellent Organization in this year's Spark Online Competition – Coding for Health where they contributed 10 projects out of which 9 won in all categories. Two of their projects, Automated Medicine Assistant (A.M.A) and Smart Emergency Ambulance and Traffic System (SEATS) were recoganized in the Young All-Rounder Category.
To prepare for the Spark Competition, their students were put through an intensive 2-month program.Students that were eligible for entry must have prior experience of coding with mBlock5, mBot, Halocode, and Cyber-Pi kits. The first step before selecting a project title was for the students and mentors to ideate various topics based on the theme of the competition. Once both parties mutually agreed on a title, students began to build, code, and test their projects. Mentors were tasked to ensure that students understood and followed the project timeline assigned to them.
Upon successful completion of the project, students then presented their masterpieces. This included recording their videos, learning how to edit them, and design a poster. The poster design was left to the end as the students would have a clear understanding of their entire projects by then where they could explain clearly to the judges.
"My favorite part of the competition was when I was testing my project and demonstrating it in front of the camera. I really enjoyed the exciting online celebration hosted by MakeX where we got to meet all the contestants and even saw some amazing projects."
— Ameer Ali Jamot, age 6
"I started my robotics journey at TBL and it has been an amazing! The project-based learning approach has taught me a lot. We are given real-world problems and must come up with innovative solutions using robotics and AI. That was how I came up with my Spark project. Thank You MakeX for this incredible opportunity.
— Rayaan Shiraz, age 13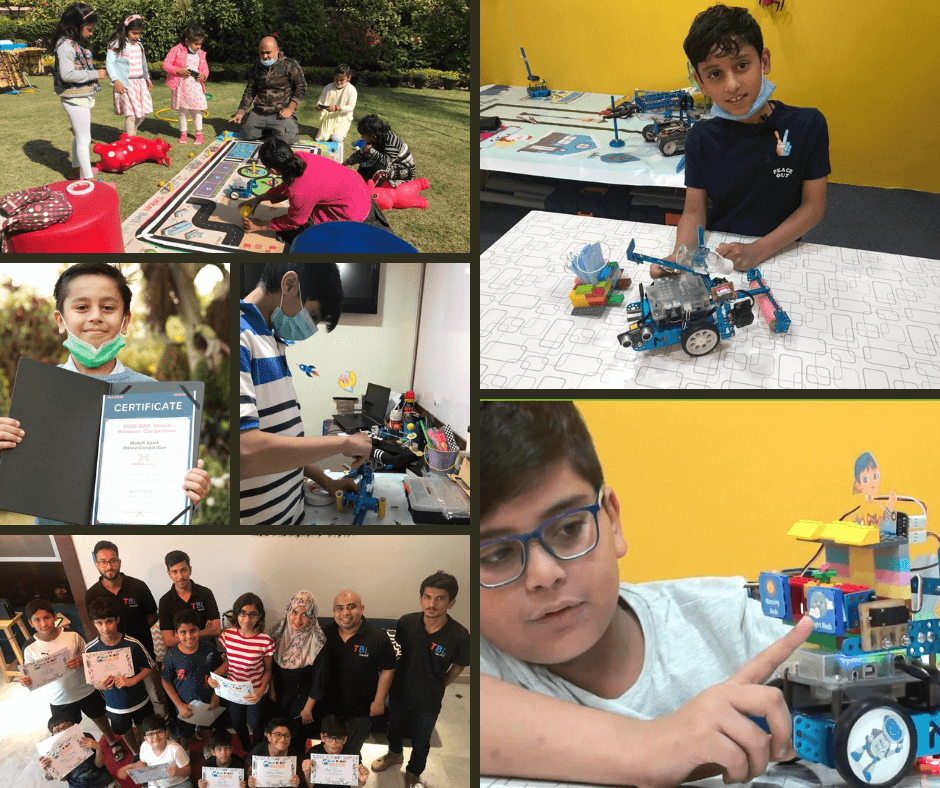 Robotik SIKL
Robotik SIKL is an extracurricular activity in Indonesian School in Kuala Lumpur (Sekolah Indonesia Kuala Lumpur). It was founded by SIKL School Committee (Komite Sekolah SIKL) and supported by Sekolah Indonesia Kuala Lumpur & Atdikbud KBRI.
Its first-class was held on 22 March 2019 with 2 parents volunteering as mentors and teaching children robotics using 6 mBots. Robotik SIKL has since recruited more parent mentors, invested in more equipment, and continuously updating its curriculum with the latest development in STEAM & robotics education.
Robotik SIKL's mission is to teach our children the latest in STEAM & robotics to ensure their competitiveness in the future global world while maintaining an affordable cost of participation.
Robotik SIKL is an independent organization whereby it is not a distributor of any Robotics product but we have always gravitated towards Makeblock product due to its structured lesson plans & curriculum, the mBlock 5 software, and its attractive, easy to learn products, and meaningful competitions such as MakeX.
Robotik SIKL has been actively participating in competitions in Malaysia and internationally to maintain a good relationship with other STEAM & Robotics Organizations and to further improve our knowledge by learning from our fellow competitors, knowledge which we then pass on to our children.
Robotik SIKL won its first competition in November 2019 where it won MakeX National Robotics Competition in Malaysia and has been actively participating in all competitions held by MakeX.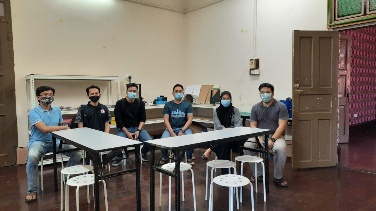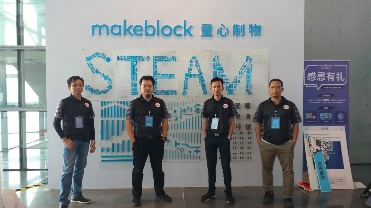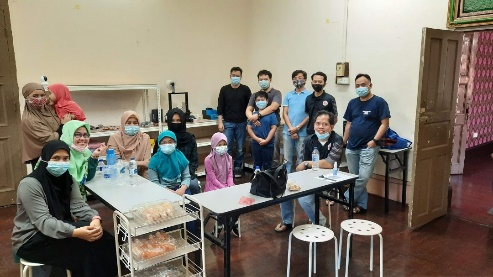 Panda Academy
Based in Southern California, USA, Panda Academy offers both online and in-person enrichment classes. Panda Academy started offering online Mechatronic classes in 2020 to prepare students for MakeX's online competitions during the pandemic lockdown.
Derek Zhang, the Panda Academy's Mechatronic program lead, focused on bringing out each student's creativity for designing novel solutions to the health issues we are currently facing. Students had a clear understanding of the problems they are trying to solve as well as hardware availability and software/platform capabilities. With these parameters in mind, they are encouraged to brainstorm solutions using a top-down design style, without necessarily knowing how to implement every detail. Designs are then reviewed, and finalized based on the student's interest level in the underlying technologies. This had the effect of maintaining high motivation levels as students learned how to actualize their solutions through coding and hardware assembly.
The challenge of teaching completely new concepts and hardware technologies to students is two-fold due to the virtual classroom format. Workarounds such as utilizing multiple cameras during lessons, screenshot/photos/video captures by students, remote desktop/share control, and collaboration software were used to overcome the difficulties of learning online.
A big thanks to MakeX for creating the Spark online competition. The pandemic is a difficult time for students in the States due to lockdowns. The lack of interaction with classmates and friends during the school lockdowns stifled collaborations and creativity for students. The Spark competition gave students a chance to compete on the international level to help solve global issues that are currently affecting their own lives. The motivation and creativity levels of students were amazing during the competition. A huge shout out to all the Panda Academy students for their hard work, and to their parents for their support!