EU Code Week has recently announced to partner with MakeX, a global robotics competition platform to continue fostering practical learning in the area of coding and engineering through a series of activities and programs for students of all ages.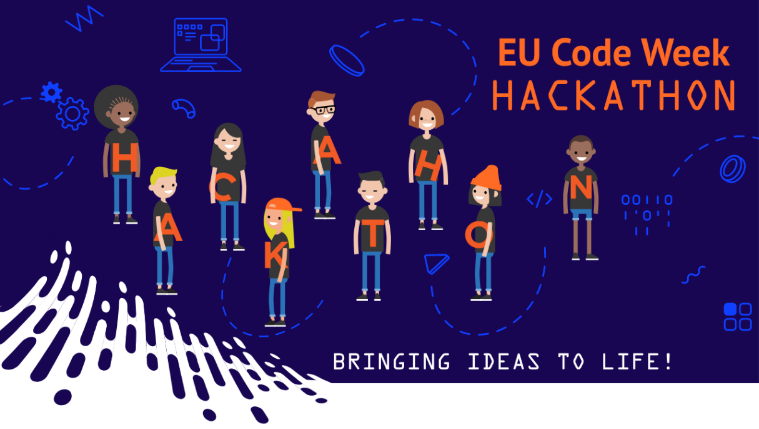 This year, EU Code Week brings six extraordinary hackathons in Greece, Latvia, Ireland, Italy, Romania and Slovenia and invites 15-19 year-old students, in upper secondary school, to form teams and use their coding skills to find solutions to today's greatest challenges. The teams will battle it out to decide who wins cool IT gear and the chance of mentoring and coaching to further develop their prototypes.
Hackathon Romania, 17-18 April
Hackathon Ireland, 26-27 April
Hackathon Italy, 7-8 May
Hackathon Greece, 7-8 May
Hackathon Latvia, 29-30 May –> Still time to register !
Hackathon Slovenia, 18-19 September –> a physical two-day hackathon
For more information about the Hackathons, please visit https://codeweek.eu/hackathons or contact us at info@codeweek.eu.


For students from 6 to 13 years old, regardless of backgrounds and nationalities will also have the opportunity to explore what it means to be an innovator by participating in the 2021 MakeX Spark Online Competition. Teams will identify a problem or opportunity in connection with the theme of "Family Care", design a solution, and make it a reality by using programming technology as part of the process.
More excitingly, there will also be robotic competitions powered by MakeX held on a national level in Russia, Turkey and Germany with different themes starting from mid-May.
2021 MakeX Spark Russia, 15-25 May: spark.makex.io/2021-makex-spark-russia
2021 MakeX Spark Turkey, 1-10 June: spark.makex.io/2021-makex-spark-turkey
2021 MakeX Spark Germany, 1-11 June: makex-wettbewerb.de
2021 MakeX Spark Online Competition, 8-18 Oct: spark.makex.io/2021-makex-spark-family-care
If you have any questions regarding MakeX or the competitions, please contact us at makex_overseas@makeblock.com.
Both challenges are designed for students to develop their confidence, explore the innovation process and learn valuable science, engineering, and problem-solving skills. We are thrilled to collaborate to further expanding opportunities for students to be the next generation of innovators and inventors.