1. Introduction
Contestants and mentors that meet participation requirements can register through competition page.
If participating team wants to change their members before competition, which leads to inconsistency with the registration information, they should inform MakeX Robotics Competition Committee(makex_overseas@makeblock.com) in advance to finish re-registration.
Registration will cost around 15 minutes to finish the whole process, and please use Google Chrome (the last version). The general guide is as shown below.
2. Competition Registration Procedure
Perform the following steps to complete the registration:

Step 1: Enter MakeX official website(www.makex.cc/en) and click "Competition" on the navigation bar and you can see competition list.

Step 2: Select "Competition list" and find the competition you planned to attend.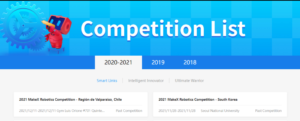 Step 3: Click "Register" bottom on the competition page to enter the registration form.

Step 4: Fill in the form accordingly. Please make sure you have filled all required fields.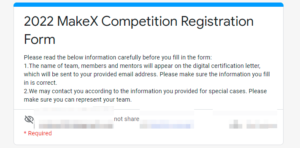 Step 5: Click "Submit" to complete the registration

3. Notes
The name of team, members and mentors will appear on the E-certificate letter, which will be sent to your provided email address. Please make sure the information you fill in is correct.
We may contact you according to the information you provided for special cases. Please make sure you can represent your team.
The form contains 7 sections, one for basic information, two for mentor information and 3 for contestant information.
Please fill in one contestant/mentor's information in each section.