The 19th Guangxi Adolescent Robotics Competition ASEAN Countries & Guangdong-Hong Kong-Macao Adolescent Robotics Invitational Tournament (hereinafter referred to as the "2021 ASEAN Invitational Tournament") has jointly organized by Guangxi Association for Science and Technology, Department of Education of Guangxi Zhuang Autonomous Region, and the People's Government of Hezhou City, opened to all mentors and contestants from ASEAN countries and the Guangdong-Hong Kong-Macao Greater Bay Area by the form of online and on-site simultaneously. The competition aims to promote the popularization of science and technology, through stimulating adolescent' interest in robotics, encouraging more adolescent to study, explore and practice in high-tech fields such as electronics, information and artificial intelligence.
As an important competition program of ASEAN Invitational Tournament, MakeX Spark has attracted hundreds of contestants from ASEAN countries and Guangdong, Hong Kong and Macao. Under the theme of Code for Health, contestants need to focus on the theme, make full use of creativity, carry out the projects through software programming, hardware construction, and display the projects to others.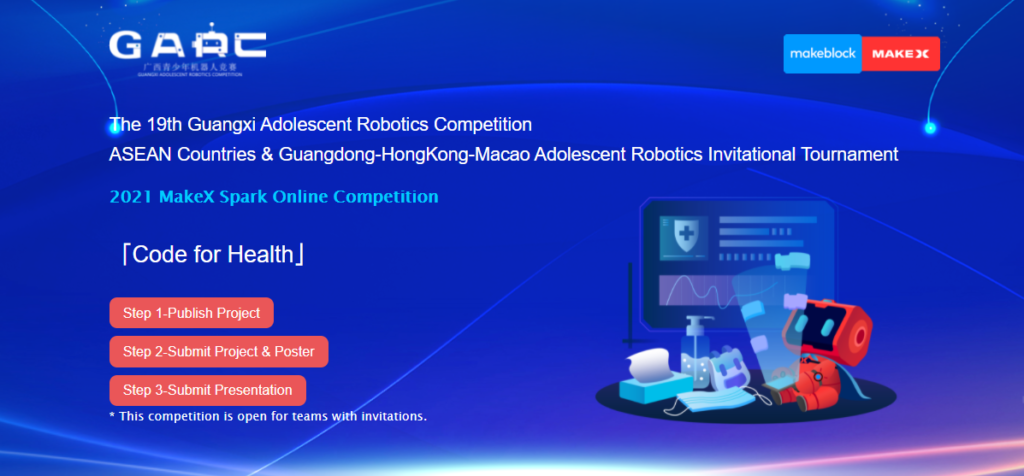 The Competition Webpage of the 2021 ASEAN Invitational Tournament
In order to maximize the influence and popularity of this competition in ASEAN countries, the competition committee has proactively communicated and cooperated with local authorities in Malaysia and Indonesia by conducting the specific online session for the competition information sharing and training, to help contestants and mentors make preparation actively for the competition. As a good result, over 200 teams from Indonesia, Malaysia, the Philippines, Singapore, Thailand, Guangdong, Hong Kong and Macao have submitted their projects. After preliminary selection, top 10 projects are promoted into the Final round on May 22.
The Online Introduction Session for Indonesia Teams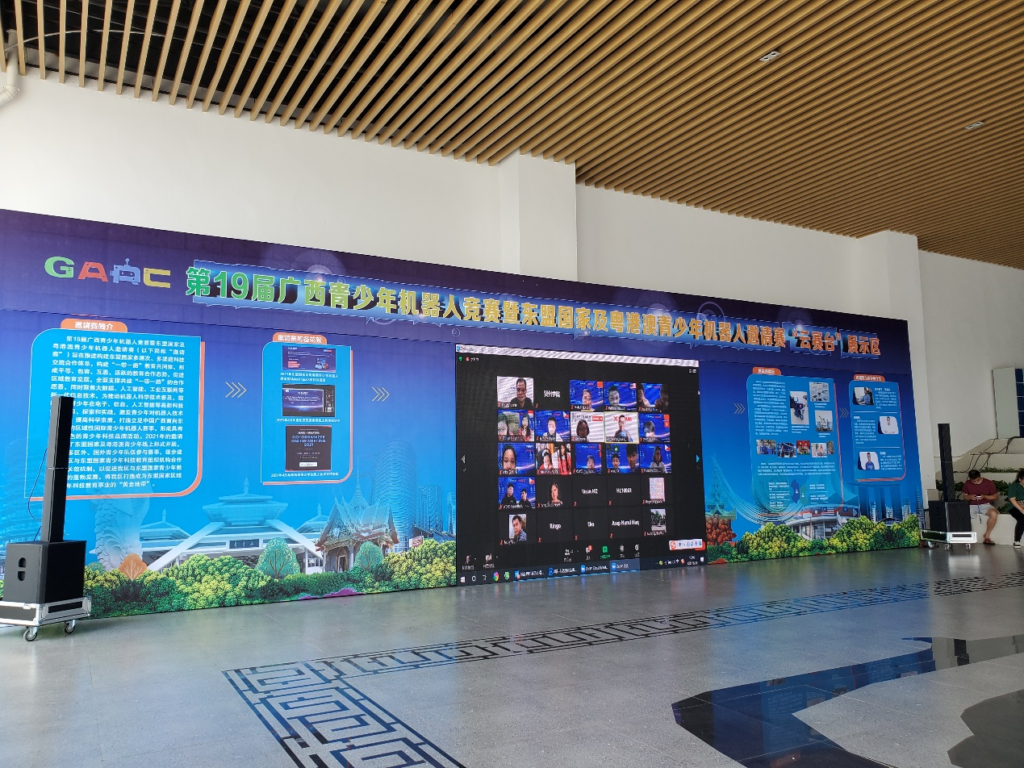 The Final Presentation Conference Live On May 22nd
Through MakeX Spark, contestants can reflect on their abilities in five dimensions, including design ability, innovative thinking, electronic technology, programming ability, and communication skill. In this competition, the score result of each dimension will be closely related to the performance of the contestants and the content of the submitted projects. In order to ensure the professionalism and authority of this competition, the experts and professors from well-known universities and robotics & programming educational industry are invited to give the final assessment to the teams of final round.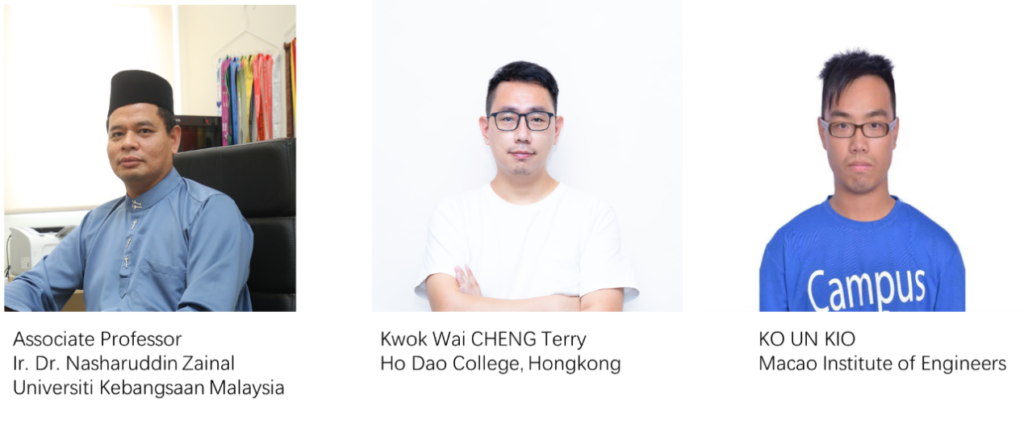 Expert Judge Panel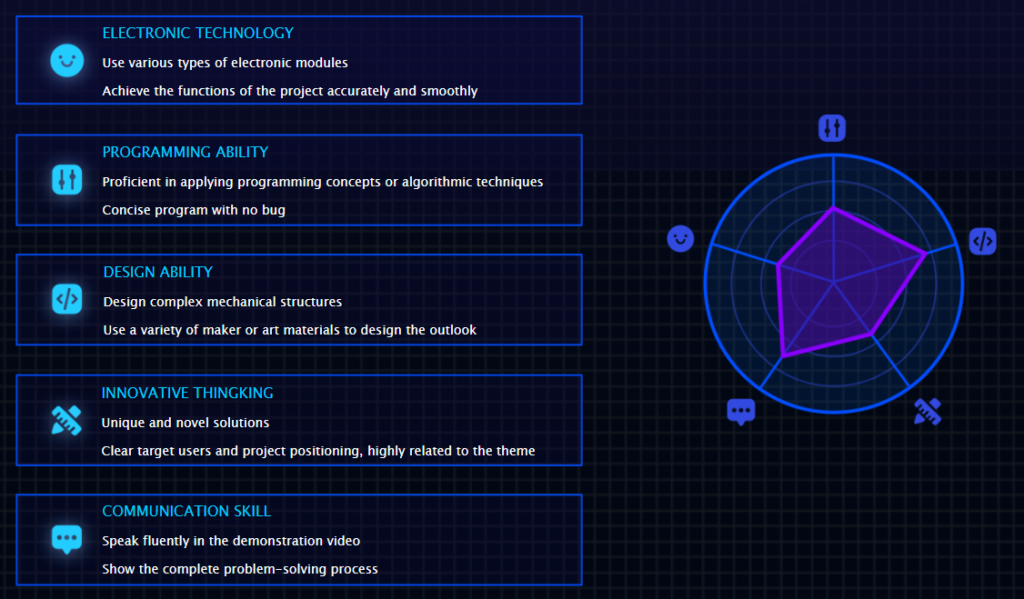 MakeX Spark Assessment Criteria
In this competition, all the teams performed very well. Three teams from Indonesia won the champion, second runner-up and excellence award respectively. Since all the participating teams in ASEAN Invitational Tournament are selected from hundreds of teams and represents the best projects in the 2021 MakeX Spark Online Competition, the competition was very intense. In addition, all contestants have demonstrated their excellent presentation skill, the deep understanding and application of robotics technology.
Champion Award: CHARM (Caring Health Assistant Robot Module)
Contestants: Ciaryn He & Isselyn He (Indonesia)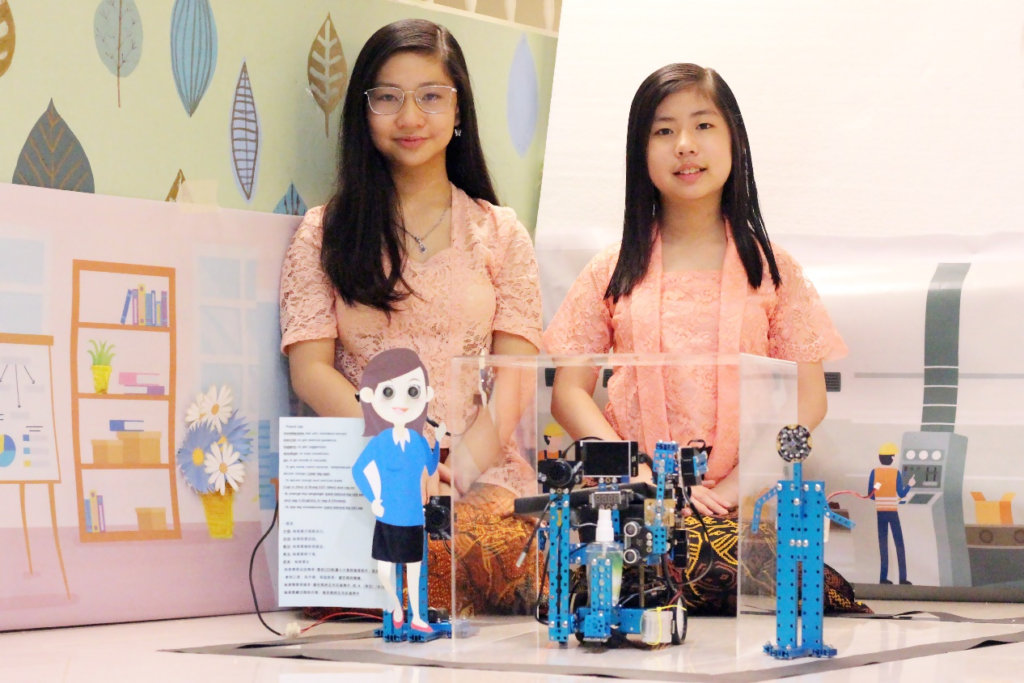 The Project made by Ciayn He and Isselyn He is a comprehensive solution that consisted of three robots: Gevi, Luna and Bluey, which can solve many problems of our daily life during the epidemic. In addition to focusing on temperature detection, disinfection and other practical functions, Ciayn He and Isselyn He also have considered the emotional needs of human being. For example, one of their robots is designed to speak with human with the different languages and different genders voice.
Moreover, Ciayn He and Isselyn He have fully demonstrated their problem-solving skills and a completed project implementation plan with an excellent expression skills. Their exploration spirit and practical ability is really impressive.
Runner-up Award: Hospital mBot
Contestants: Ihsan Hafiz Zaid (Malaysia)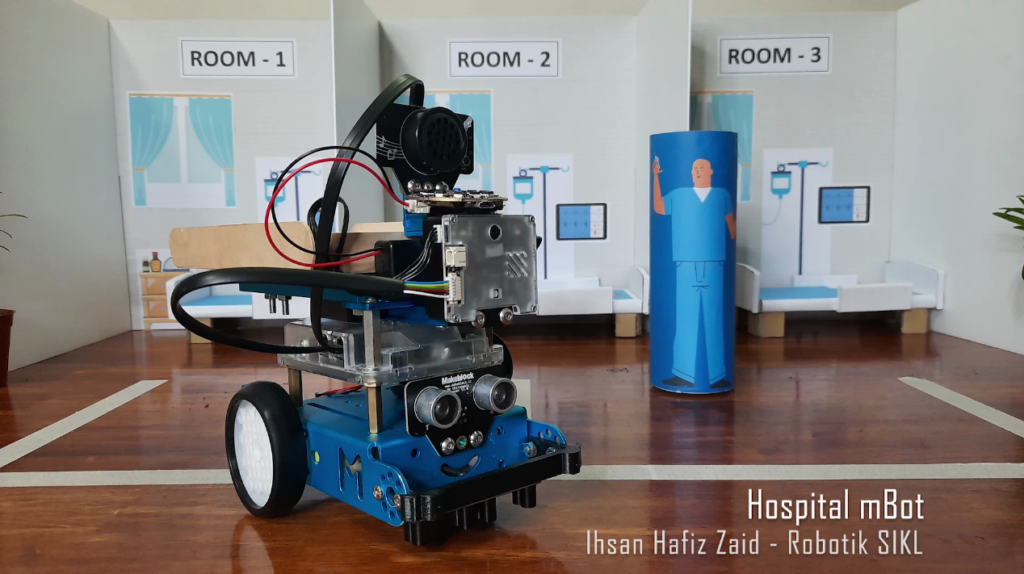 Ihsan Hafiz Zaid provides a hospital in-house logistics robot system based on Makeblock mBot. Compared with the unrestrained imagination of other competitors, Ihsan Hafiz Zaid's project reflects more rigorous product design logic and polish on details, such as adding ultrasonic sensors to avoid the crash human, and establishing a complete scheduling logic to guide the robot accurately reach the designated destination through the navigation device. Keeping rigorous design thinking is a very important characteristics to be a good engineer.
2nd Runner-up Award: Motion Detector Health Bot
Contestants: Faith Gabriella Onggowarsito & Sharlene Arcelia Septiawan (Indonesia)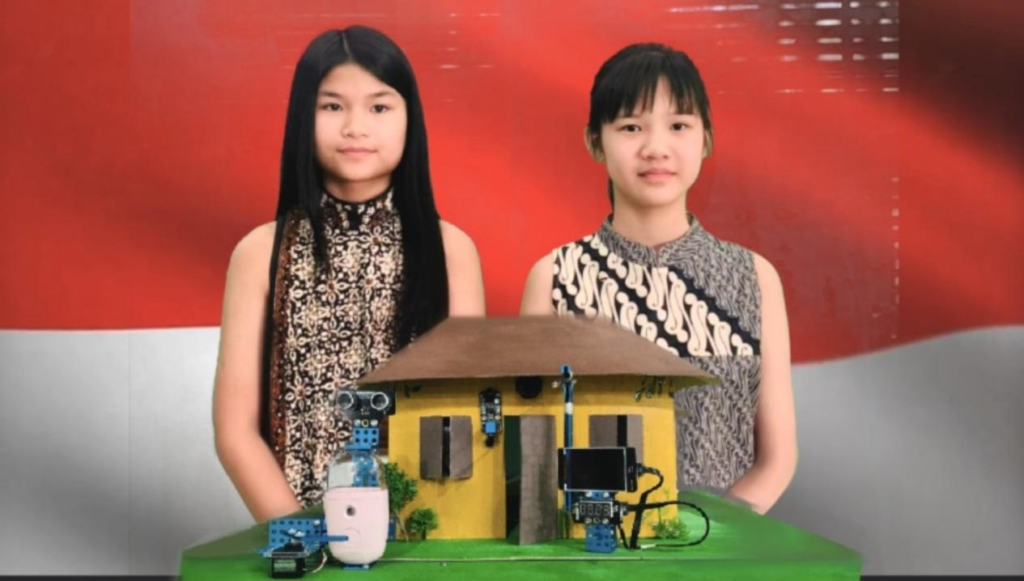 Faith and Sharlene's project focuses on the three most effective methods that people can do to fight against the COVID-19: disinfecting the rooms, washing hands and monitoring the body temperature. Their project has made all those three measures easier and more efficiently by applying a variety of sensors system. In addition, their lively speech style and excellent expression ability are their advantages that they stand out in the competition.
MakeX Spark Online Competition is a project-based creative design program for young people aged 6 to 13. The participating team will need to focus on the specific theme and devise a solution through software programming and hardware construction. The solution will be a demonstration project and a poster with topics including research, design-thinking process, construction scheme, and outcome summary.
With the characteristics of low entry-level and flexible forms, Spark focuses on guiding teenagers to not only learn interdisciplinary knowledge and apply them to practical problems but also improve their problem-solving and logical-thinking abilities, developing their creativity and imagination.
The 2nd Match will come in Oct, find more information at https://spark.makex.io/2021-makex-spark-family-care/